Byers Limousine's Professional Chauffeurs
Bob

Known to us here as Robert, Bob is a very hard worker and drives pretty much wherever & whenever required. Bob loves to drive and cares deeply for the people he works with. Not to mention he has been given the prestigious award as "Man of the Year"!!! Better known to us as "A Man of The World"!!!

Darwin

Darwin is a very outgoing, energetic person & is quite witty even at 4 am during late evening runs to Montreal!!! Darwin has filled a void that couldn't be filled by a more trustworthy and loyal friend. If you are looking for a chauffeur to remember, Darwin is 5 stars!!!

Ed

Ed is a professional driver and has been in the industry for over 30 years. Ed will charm you with lots of laughs and jokes. He has also been known to show up to weddings in his kilt rather than the traditional tuxedo "at the bride's request".

James

Owner & Founder of Byers Limousine, holds not only the responsibilities of operating such an exciting business but finds the time to get "behind the wheel" and mingle with clientele. AKA to the prom kids as "Jeeves"!!!

Len

Leonard has been driving limousine as long as I've known him and that is about 14 years. Len has a warm personality, is very cheerful and will make your day a wonderful experience.

Shian

Shian, pronounced "SHY-ANNE", is one of our youngest chauffeurs. He may seem "shy" or soft-spoken at first but is a great guy.
Byers Limousine's 5 Star Service Consultants
Marilyn
Marilyn (Mom) performs office duties on select days at Byers Limousine and is extremely energetic and a great speaker. Marilyn's position requires her to meet customer requests for special events and acts as concierge working with both client and service provider to ensure client's professional requirements are met.
Shelley
Shelley, James' wife and co-owner, is formally trained by Algonquin College, Ottawa & received a Post-Graduate invite to further her studies at George Brown College, Toronto and is our in-house chef. Shelley has diplomas in culinary and food and nutrition management. Shelley does chauffeur, answer phones and perform office duties which keep us ship-shape but loves nothing more than to shop, quilt or scrap-book if she had the choice!!!
James & Shelley Byers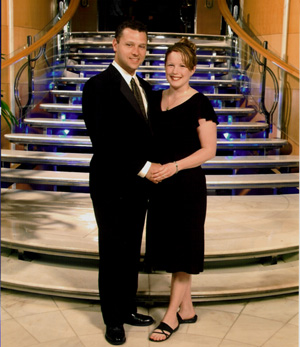 Byers Limousine & Stretched SUV's has always been a family owned company. We have never been bought or sold; Never told clients that our years of service are the product of a merger of several companies or from working part-time for others. We have been in service since October 1995 and can contribute our success to hard work, prestigious vehicles, quality service and loyal clients and friends. Many of our clients say that they feel as though they are treated as family. That's because they are.